It was a good week.
My mom was here—Saturday to Saturday—for some quality time with The Peanut. Watching a grandma with her grandchild is something really special…especially when it only happens for a few days every 2-3 months.
This time with grandma was different. It must be that Ethan is the right age and/or developmental stage, because this visit made a noticeable impact.
After a day or so, Ethan knew exactly who grandma was. He reached for her to be held. He looked to her when we said "Grandma". And though still a little clingy after our Week 'O Crying, the Little Man was happy in her arms. He definitely became a grandma's boy before the week was through.
One of my favorite parts of the week was our trip to the Smithsonian National Air & Space Museum. No, not the one in DC. This one is by Dulles Airport, called the Steven F. Udvar-Hazy Center. It was hands-down my favorite museum experience to date.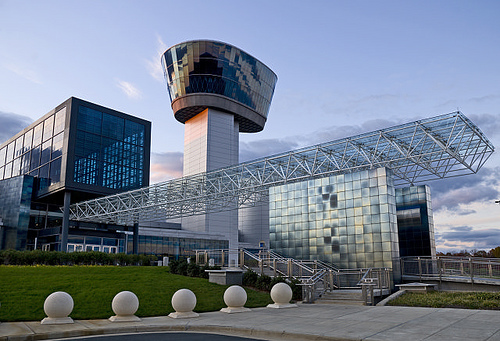 Picture courtesy of http://venus.wisc.edu/
To our absolute delight, we found out there is a SPACE SHUTTLE here! I actually had goosebumps when we walked right up to the Enterprise (which will soon be replaced by the Discovery). I'm doubting anyone really comprehends the size of these incredible vessels…they are huge.
I'm fairly sure Ethan's favorite part of the week was our lunch at Serendipity III in Georgetown. After inhaling his lunch: yogurt with blueberries and baby oatmeal, sweet potatoes, pureed carrots with vegetable risotto, steamed peas, AND a rice cake, he was still hungry. So when our waiter brought out a special little sundae, we couldn't resist letting Little Man devour it.
Throughout the week, Grandma did everything. She fed Ethan almost every meal (never ceasing to be astonished at how much the kid can pack away) and gave him his bath every other night. She read him books, changed plenty of diapers, played with all the toys, and even put him down for a few naps. Together, we took long walks and met friends at the park. We ate Georgetown Cupcakes, had martinis and calamari at Virtue Feed & Grain, and worked on a little craft project together. Stu and I even got a little date night while mom babysat.
While I'm not sure of my mom's favorite part, I know she is already missing her Big Boy.
It was a good week.